MLK Graduate Awarded Fulbright Scholarship to Teach in Cote D'Ivoire
Tuesday, September 5th, 2023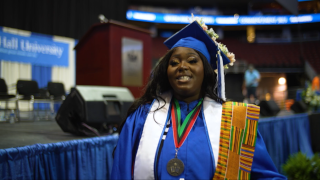 Fatimah Toure Fulbright Scholar graduated in May 2023.
A recent MLK graduate studying political science and Africana Studies, Fatimah Toure, received a Fulbright Award to serve as a teaching assistant teaching English in Cote D'Ivoire, West Africa.
Launched in 1946, the Fulbright U.S. Student Program is the flagship international educational exchange program sponsored by the U.S. government that offers research, study and teaching opportunities in over 140 countries to recent graduates and graduate students. Applicants can request grants for individually designed study and research projects, English teaching assistant programs or both.
Toure is excited to start new legacies within her family. Being a first-generation graduate, she is excited to start new trends and blessed to have been here with her scholars, peers, family, and the entire Seton Hall community. Toure said, "It's really been an amazing journey, I'm ready for the next chapter."
Toure, a native of New Jersey emphasizes her love and devotion for her state. Toure said, "I love getting my education from institutions in New Jersey and putting Jersey on the map." We have great scholars here, we have great people, great talents, that's what it means to me. Getting my degree from Seton Hall means starting new legacies for my family, my mother didn't get the chance to get very far with her education because of her circumstances back in Africa."
Toure continued, "I really do feel blessed and humbled to go through this experience with so many people who have just supported me, even when I didn't know what I needed, when I had self-doubt, their continued support helped me in getting through. I really feel blessed and humbled."
Toure described the experience of being in college during the pandemic as challenging. She had one semester on campus as a freshman before transitioning online. "That was just crazy and not what college was supposed to be," she said, remembering being at home and disconnected from other people. "I thought I was losing that college experience. We later got back to campus; it was a matter of trying to recreate the normal."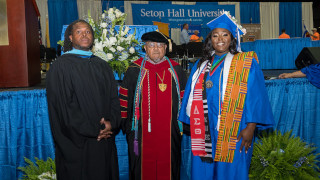 Celebrating Fatimah's achievement are Julius Moore II, Rev. Dr. Forrest Pritchett of the MLK scholars program
Being an MLK scholar has made all the difference. The program is dedicated to Dr. King's legacy of social justice in action.
Toure said, "The Dr. Martin Luther King scholarship was the best thing that happened to me when I arrived at Seton Hall, I was very uncomfortable. It was my M L K family that pulled me in and supported me. My mentors, Dr. Pritchett, mama Pritchett, are a family that encourages you to grow to reach back and help others and love others and take care of your community. It pours into me. I will pour everything I can back into MLK."
Now Toure's journey continues as she takes the lessons she has learned at Seton Hall and as an MLK scholar with her to Cote D'Ivoire to make a difference in the lives of her students in Africa.
Students can learn more about prestigious scholarships and fellowships by clicking here.
Meet Fatimah and other exceptional Setonians.
Categories: Alumni