NASPA Grant Received to Help Celebrate National First-Generation Day!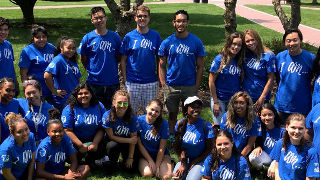 Each year we have 25-30% of incoming students that identify as first-generation that we welcome to our Pirate family. Our President, Dr. Joseph E. Nyre, is also a proud first-generation college graduate and has long supported first-generation initiatives.
Our newest initiative in increasing first-generation support on campus and that we are so excited to announce is that we have applied and were selected as a NASPA First-Generation Grant recipient! This grant opportunity allows us to provide further support to celebrate our first-generation students, faculty, and staff in honor National First-Generation Day.
National First-Generation Day is Tuesday, November 8th, 2022. Our event in honor of this day will be Friday, November 4th at 11am on the University Green! Come join us for some fun, food, and first-gen swag! Be sure to tag @FirstGenCenter and @COEtalk in any of your posts on social media and use #CelebrateFirstGen.
This is the fourth year; the Center for First-generation Student Success and Council for Opportunity in Education (COE) has held the grant opportunity and we are one of 50 schools selected. The goal of the grant is to raise awareness and celebrate the accomplishments of first-generation students, faculty, and staff.
If you would like to be featured on our social media campaign as a first-generation student, faculty, or staff member, please email nicole.battaglia@shu.edu or brandon.larmore@shu.edu by Tuesday, November 1st.
We are excited to celebrate the success of all our first-generation students, faculty, and staff and we can't wait to see you at our celebration event!
Categories: Campus Life