Dean of Students Office Receives 2023 Best Practices Award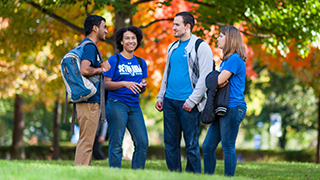 Seton Hall is committed to being a safe, supportive, and inclusive living and learning environment that fosters academic, spiritual, and personal growth. The health, safety, and success of our community is paramount. The Dean of Students Office recently received the 2023 Division of Student Services Best Practices Award. On November 1st, Vice President Monica Burnette interviewed members of the Dean of Students Office on their recognition.
Here's more information about the team:

Karen Van Norman, M.Ed.:
"I joined Seton Hall in 2006, and serve as the Associate Vice President and Dean of Students. In my role, I oversee many of the direct student service areas of the Student Services division including the Dean of Students Office, Counseling and Psychological Services, Health Services, Disability Support Services, and Residence Life. I also serve as the Deputy Title IX Coordinator. In 2018, I was recognized by Seton Hall with the Emma G. Quartaro Woman of the Year Award. Prior to Seton Hall, I served as the Chief Student Affairs Officer at Belmont Abbey College and at Mount Olive College, both in North Carolina. I earned my master's degree in Higher Education Administration at Lehigh University and my undergraduate degree at Duquesne University."
Nicole Giglia, Ph.D.:
"I currently serve as the Associate Dean of Students at Seton Hall, and am responsible for the areas of Residence Life, Student Conduct, and Prevention Education. I graduated with my Bachelor of Arts and Master of Arts from Sacred Heart University and have spent most of my career in residence life both at The Catholic University of America and Providence College. I earned my Ph.D. in Higher Education Leadership, Management, and Policy (ELMP) from Seton Hall and received the Gerald Babo Award in 2023 for academic excellence and service to the community. In addition to my role in the Dean of Students Office, I also serve as an adjunct professor for the ELMP program through the College of Human Development, Culture, and Media at Seton Hall."
Anthony Turon, M.Ed., MBA:
"As Assistant Dean of Students, I direct campus wide prevention programming and oversee two Peer Education groups, KNOW MORE and Dare to Care. Before joining Seton Hall in June 2023, I served as the inaugural University Director of First Year Experience and Student Engagement at Fairleigh Dickinson University. Over the course of my career, I have also worked in residence life and campus recreation in addition to student activities and orientation. I hold a bachelor's degree in philosophy from The Catholic University of America, a master's degree in higher education administration from Kent State University, and a master's in business administration from the University of Central Missouri. I was born and raised in nearby Elizabeth, NJ, am an avid Yankees fan and enjoy horror movies and gaming."
Jo Anne F Brehon-Bynum:
"Working at Seton Hall in multiple departments has given me the opportunity to see the inner workings of one of the top universities in the state. I started at Seton Hall University in March 2002. I worked for Government Relations where I coordinated Seton Hall sponsored events both at the State House, in Trenton and at the Capital in Washington, D.C. Before my Dean of Students Office role, I also worked in the College of Education at Seton Hall."
What does it mean for you to work in the Student Affairs Office?
Karen Van Norman, M.Ed.:
"I see my most important role as an advocate for students and a support for their voice on campus. Working in Student Affairs is an opportunity to serve students in all aspects of their lives and throughout their college career."
Nicole Giglia, Ph.D.:
"Working in the Dean of Students office means that I have the privilege of being a resource and support for students at all stages of their college journey. Being in the Dean of Students office is an opportunity to help students develop and grow through leadership opportunities, personal accountability, and times of hardship. "
Anthony Turon, M.Ed., MBA:
"Working in the Dean of Students office means that I have the chance to help create an environment where students can discover their best path forward along their unique developmental journey. Learning opportunities are everywhere on campus and I hope to take advantage of positive interactions to instill a sense of understanding and respect for students' self and others."
Jo Anne F Brehon-Bynum:
"For me, working in this office means aiding students who are learning to navigate through life. It also means helping to provide guidance and structure to every young person on this campus. "
What are three words that describe the mission of the Dean of Students Office?
The three words that describe the mission of the Dean of Students Office are: Empowering, student-entered, and supportive.
How does the Dean of Students Office keep up with best practices in the industry?
Individually and collectively, we participate in a number of professional organizations, both regionally and nationally, to ensure that we stay abreast of the latest developments, trends, and knowledge for our field. We enroll in webinars, attend conferences, and take classes. We learn from and share with colleagues, mentors, and experts in a variety of areas that impact our work.
What are the future initiatives from the Dean of Students Office?
Dare to Care and KNOW MORE Peer Educators – applications are open now for these two leadership positions on campus. Peer Educators are certified through a nationally recognized Peer Education training program and are actively involved in campus programming and outreach.
KNOW MORE – will be sponsoring the annual Giving Tree to benefit JBWS, a confidential service that supports all survivors of dating, domestic, or partner abuse and their family members. The Giving Tree will be in the University Center from November 6 through December 1. Donated gifts will be greatly appreciated by families served by JBWS.
Pirates Course – a unique program for students to share their talents and passions with other students through a Master Class. A Pirates Course can be about anything – music, AI, entrepreneurship, DEIJ, dance – anything that a student wants to teach other students about. Applications to offer a Pirates Course are open until November 30th and selected courses will be offered in the Spring semester.
NJ Higher Education Mental Health Summit – Dean Van Norman is co-chairing this inaugural state-wide conference which will be hosted at Seton Hall on January 10. Expected to draw over 300 professionals from across the state, this event will focus on best practices in meeting the mental health needs of our students.
How can one learn more about the Dean of Students Office?
• Watch for announcements in the Student Services newsletter published weekly by the Vice President's Office.
• Get involved with programs offered through KNOW MORE and Dare to Care.
• Follow @hallstudents on Instagram to stay up to date on upcoming events.
• Drop by and visit with us anytime (Room 212 – 215, University Center)!
Categories: Education