Bringing the Seton Hall University Experience to Your Screens
Tuesday, August 22nd, 2023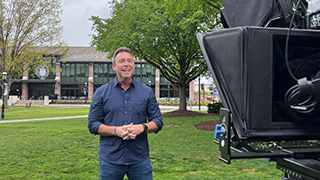 Alex Boylan, host of The College Tour, introduces viewers to 10 Seton Hall University students.
As the academic year came to a close in May, ten students shared their Pirate journey for all the world to hear. Many students around campus may have encountered the film crew, which spent a week filming in South Orange and Nutley, and wondered what was going on.
Seton Hall University is a featured episode of The College Tour, a popular Amazon Prime series spotlighting colleges and universities across the nation. Touring colleges can be daunting. Narrowing down which schools to visit can feel like looking for a needle in a haystack for both parents and students. Especially for students who want to venture outside of their home state, many families want to get a sense of what a college is like, before they visit. With The College Tour, there's a new way to experience college tours from the comfort of your own living room.
As part of Season 9, debuting in October, the Seton Hall episode follows 10 Pirates who uncover the University's remarkable tapestry, celebrating its legacy, diversity and dedication to holistic education, where intellectual growth, innovation, and community engagement are seamlessly intertwined.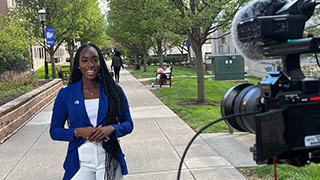 Idara Ben-Edet, an international graduate student, explains the importance of gaining a global perspective.
"We are proud to be among the select schools featured in the Amazon Prime series this year and excited to see our students shine throughout the episode," said Michael Hyland, Assistant Vice President of University Relations. "We hope their stories inspire future students looking for the right college to take a closer look at all Seton Hall offers."
In addition to streaming on Amazon Prime this fall, the University's episode of the College Tour is available on the University's website and YouTube channel.
The episode is designed to show the heart and soul of campus, a collective goal of The College Tour project. More than 50 students submitted audition videos last spring. The lucky students who were selected drafted their own scripts to ensure that each story was genuine and individualized.
"The idea is for prospective students to watch a full-fledged experience at one college from 10 different student perspectives rather than a single tour guide, like traditional campus tours," said Alex Boylan, host of The College Tour.
"I was super happy and excited to participate in The College Tour so that I can show others just how much Seton Hall has to offer and why I've considered this my home for the past four years," said Claire Wolfe, Seton Hall student featured in the episode. "As a Visual and Sound Media major too, it was interesting to see a behind-the-scenes look at what an official production looks like!"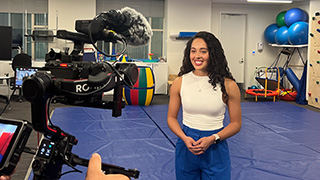 Katalyna Lorick, a two time Seton Hall alumna, illustrates her time as a Pirate cheerleader and becoming an Occupational Therapist.
"Touring colleges is an important way to learn about schools that students may be considering," notes Alyssa McCloud, Ph.D., Vice President of Enrollment Management. "The College Tour really complements that experience and gives students additional insight into what makes each college unique. We think our students did a great job representing how terrific it is to be a Pirate!"
Students and their families can watch Seton Hall's episode of The College Tour and meet our 10 proud Pirates here.
Categories: Campus Life