Seton Hall Again Recognized as 'Top College' by Princeton Review
Friday, September 1st, 2023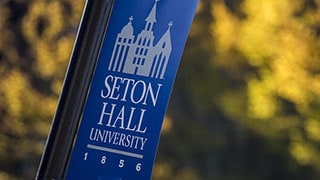 Seton Hall University was again recognized as one of the Top Colleges in America by The Princeton Review; this is the 28th year Seton Hall has been ranked as one of the nation's best institutions for undergraduate education by The Princeton Review. The University is featured in the 2024 edition of the education services company's annual college guide, "The Best 389 Colleges."
Being listed in the "Best Colleges" guide again puts Seton Hall University among an elite group of colleges and universities. Less than 15 percent of the four-year colleges and universities in the U.S. are named to the list. The Princeton Review rankings are based on surveys of 165,000 students who are asked about their school's academics, administration, student body and themselves.
According to The Princeton Review, in those surveys Students Say:
Founded in 1856, New Jersey's Seton Hall University is a Catholic school offering students "a chance at an affordable, quality college education" composed of challenging coursework and a "diversity of programming." The school "has a very high employment rate," and "the financial aid is wonderful." Seton Hall also features an "excellent career center," making for a good return on investment. Building on that, the proximity to New York City (about 15 miles away) helps in the "abundance of available internships" and "the opportunity to network with Seton Hall alumni [who] are now business professionals." The Honors Program "is very thorough and well put together," the business and nursing schools are notably strong, and the school has done its share of innovating by adding features such as "one-day classes for credit, tech courses online, and money management courses," as well as group-oriented sessions where students "are allowed to stand up and freely discuss the topic at hand" rather than "being bound to a desk."
Seton Hall is committed to practical experience for students and practitioners. The University boasts over 17,000 internship opportunities. Remarkably, over 80 percent of its students have at least one, if not two internships, under their belt before graduation.
Seton Hall's employment rate for 2022 is 98.5 percent and its graduate school acceptance rate was 98 percent.
A recent independent study from Georgetown University's University Center on Education and the Workforce ranked 1700 public and private colleges and universities in the United States (that primarily confer bachelor's degrees) for return on investment over the course of a graduate's workforce career.
The Georgetown research found that Seton Hall alumni can expect to reap an additional $1.4 million in earnings during the course of their career by virtue of their degree, which placed the University at 175 among the 1700 schools – the Top 10 percent nationally.
Last year Seton Hall awarded a record-breaking $158 million in scholarships for Fiscal 2023. This year, the University has budgeted more than $169 million in scholarships to students. A staggering 98 percent of its student body benefits from some form of financial aid, with 97 percent receiving scholarships or grants.
"These achievements underscore the high caliber of a Seton Hall education," said Interim President Katia Passerini, Ph.D. "They are a testament to what our students' great minds can achieve when presented with unique opportunities and nurtured by world-class faculty."
In addition to being named again to The Princeton Review's list of Top Colleges, an additional accolade was accorded to Seton Hall's student-run radio station, 89.5 WSOU-FM, which secured the #19 position in the "Best College Radio Station" category according to The Princeton Review. There are said to be 479 college radio stations in the United States, with the ranking putting WSOU in the Top 4 Percent. The station, an integral part of the Seton Hall tapestry since 1948, pulls in more than 120,000 listeners weekly from the NYC area, further highlighting the university's wide-reaching influence. Among its many other accolades WSOU has been inducted into the Rock Radio Hall of Fame and has won a Peabody Award as well as radio's most prestigious accolade, the Marconi Award. In 2023 WSOU was again named among the five finalists for a Marconi Award as "College Radio Station of the Year" by The National Association of Broadcasters.
About Seton Hall University
One of the country's leading Catholic universities, Seton Hall has been demonstrating to the world what great minds can do since 1856. Home to nearly 10,000 undergraduate and graduate students and offering more than 90 rigorous majors, Seton Hall's academic excellence has been singled out by The Princeton Review, US News & World Report, and Bloomberg Businessweek. Seton Hall embraces students of all religions, equipping its graduates to become exemplary servant leaders and compassionate global citizens. Its scenic main campus in suburban South Orange, New Jersey, is a mere 14 miles from New York City, unlocking countless employment, internship, cultural, and entertainment avenues. Recent economic analysis showcased Seton Hall's staggering $1.6 billion impact on New Jersey's economy annually, fostering nearly 10,000 jobs. With its nationally recognized School of Law in downtown Newark and the Interprofessional Health Sciences (IHS) campus in Clifton and Nutley housing the College of Nursing, School of Health, and Medical Sciences, along with the Hackensack Meridian School of Medicine, Seton Hall remains a hub of academic prowess.
Categories: Campus Life