$1.25 Million Grant Awarded to Seton Hall University Will Fund Immaculate Conception Seminary School of Theology's Program Exploring Preaching as Hospitality
Thursday, November 16, 2023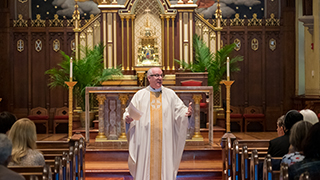 Seton Hall University has received a $1.25 million grant from Lilly Endowment Inc., to help the Immaculate Conception Seminary School of Theology ("ICSST") establish a Preaching as Hospitality formation program, a five-year, multi-faceted effort that seeks to form preachers who will grow in their self-confidence as they prayerfully encounter God in Scripture, and experience the power of Christian hospitality in inviting, welcoming, and sharing the Word of God.
The program is being funded through Lilly Endowment's Compelling Preaching Initiative. The aim of this initiative is to foster and support preaching that inspires, encourages, and guides people to come to know and love God and to live out their Christian faith more fully.
"Hospitality—the act of welcoming, including, listening to, and empathizing with others—is of vital importance in today's world, and the greatest example of it we find in the life of Jesus Christ," said Reverend Monsignor Gerard H. McCarren, S.T.D., Rector/Dean of ICSST. "The overwhelming generosity of Lilly Endowment will enable our future priests and deacons to learn how to incorporate the act of hospitality as they serve people from all walks of life. As a truly inclusive program, Preaching as Hospitality will also inspire our entire community of students, faculty, and staff, as well as priests and deacons throughout New Jersey, as they join us for the various activities."
The program will include evenings of reflection, prayer, and presentations centered on the theme of hospitality in the New Testament and the application of hospitality to the ministry of preaching. The program also will include an annual University parish mission, revised courses, and newly created elective courses in the Ministry of Preaching and Hospitality. In years three through five, Preaching as Hospitality will offer Pauline Preaching Clinics structured to help participants learn from St. Paul's ways of welcoming and sharing the Word of God.
"Preaching as Hospitality provides an exceptional opportunity for us to foster an environment that even more fully embodies the values we hold dear," said Katia Passerini, Ph.D., Interim President of Seton Hall University. "This grant gives us the wherewithal to create a future where our communities are more hospitable, our hearts more open and our faith more vibrant."
Founded in 1860, ICSST's mission is twofold: As a House of Formation, the Seminary offers men preparing for the priesthood the personal, academic, ministerial, and spiritual formation essential for their conversion to Jesus Christ and their commitment to a life of service to the Church. As a School of Theology, the Seminary provides a theological and philosophical foundation for men and women pursuing undergraduate and graduate studies; a theological foundation and a pastoral and spiritual formation for men and women preparing for ministries among the people of God; a theological foundation for men and women desiring to pursue doctoral studies; and varied opportunities for continuing theological education within Seton Hall University.
ICSST at Seton Hall is one of 81 organizations being funded by Lilly Endowment through the competitive round of the Compelling Preaching Initiative. Reflecting the diversity of Christianity in the United States, the organizations are affiliated with mainline Protestant, evangelical, Catholic, Orthodox, Anabaptist and Pentecostal faith communities. Many of the organizations are rooted in the Black Church and in Hispanic and Asian American Christian traditions.
"Throughout history, preachers often have needed to adapt their preaching practices to engage new generations of hearers more effectively," said Christopher L. Coble, Lilly Endowment's vice president for religion. "We are pleased that the organizations receiving grants in this initiative will help pastors and others in ministry engage in the kinds of preaching needed today to ensure that the gospel message is heard and accessible for all audiences."
Lilly Endowment launched the Compelling Preaching Initiative in 2022 because of its interest in supporting projects that help to nurture the religious lives of individuals and families and foster the growth and vitality of Christian congregations in the United States.
About Lilly Endowment Inc.
Lilly Endowment Inc. is a private foundation created in 1937 by J.K. Lilly Sr. and his sons Eli and J.K. Jr. through gifts of stock in their pharmaceutical business, Eli Lilly and Company. While those gifts remain the financial bedrock of the Endowment, it is a separate entity from the company, with a distinct governing board, staff and location. In keeping with the founders' wishes, the Endowment supports the causes of community development, education and religion and maintains a special commitment to its hometown, Indianapolis, and home state, Indiana. A principal aim of the Endowment's religion grantmaking is to deepen and enrich the lives of Christians in the United States, primarily by seeking out and supporting efforts that enhance the vitality of congregations and strengthen the pastoral and lay leadership of Christian communities. The Endowment also seeks to improve public understanding of diverse religious traditions by supporting fair and accurate portrayals of the role religion plays in the United States and across the globe.
Categories: Faith and Service