Professor Incorporates Digital Literacy in Nursing Education
Wednesday, November 15, 2023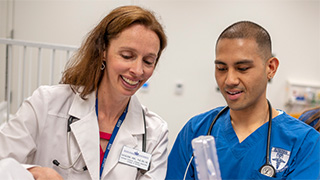 Assistant Professor Katherine Hinic, Ph.D., a recipient of a Faculty Innovation Grant (FIG) for the academic year 2022-2023, has developed a novel approach in the College of Nursing's graduate department. Her project, "Infusion of Creativity and Digital Literacy Skills into Advanced Clinical Pathophysiology," stands as a significant highlight in integrating technology into nursing education. This initiative forms part of Seton Hall's broader effort to embed Adobe Creative Suite tools into classroom activities, aiming to bolster digital literacy among all its students. This access not only enhances their current academic work but also prepares them for future professional presentations.
Hinic's project is designed to enhance digital literacy among Master of Science in Nursing (M.S.N.) students. It was implemented in Advanced Clinical Pathophysiology, an online asynchronous core course, which is required for all M.S.N. students specializing in advanced practice nursing.
The project's main feature, the Advanced Practice Nursing Grand Rounds, offers students the chance to develop digital literacy while applying their knowledge to real-life scenarios. Students created webpages, video presentations, and graphical abstracts, tackling complex pathophysiological concepts and diseases, thereby preparing them for professional presentations in clinical settings.
"Generally speaking, grand rounds presentations would be given by somebody who is an expert in that particular area," said Hinic. "So, for purposes of this assignment, each of the students became the expert on their health condition of interest and presented it to our class using Adobe tools. Each were real-life situations that advanced practice nurses encounter on a regular basis."
Hinic's project aligns with the College of Nursing's graduate program outcomes: emphasizing scholarly communication, critical thinking, evidence-based practice, and leadership in a global society —demonstrating Seton Hall's commitment to preparing nursing graduates for the complexities of modern healthcare.
"The Faculty Innovation Grant was a great opportunity because it allowed me to think purposefully about the digital literacy skills that I'm trying to develop in our students," said Hinic. "The grant gave me the opportunity to thoughtfully map out how the proposal was going to help to develop these skills."
Kristi Stinson, Ph.D., R.N., A.P.N.-B.C. of the College of Nursing, along with Hinic's colleagues, have commended this initiative for its contribution to graduate nursing education. "Seton Hall's College of Nursing, through initiatives like Hinic's, is setting a new standard in nursing education by integrating digital literacy," said Stinson. "Through these, we are preparing students to be not only healthcare professionals but also adept digital communicators and leaders in a rapidly evolving digital world."
The success of this project has opened avenues for further exploration and adaptation. Hinic is considering various improvements, such as staggered due dates and synchronous presentations, as well as extended these digital literacy enhancements to other courses she teaches.
"I see real opportunities throughout our graduate programs for integration of technology, such as for developing patient education materials and sharing findings from research and evidence-based practice initiatives," she said. "I am excited to implement some of these tools in my Forces in Healthcare course to assist students in creating a creative and effective way of presenting their research on a contemporary health policy issue to classmates."
Hinic added, "As a nurse scientist, I have found the Adobe tools to be an extremely helpful tool in mapping out steps of a proposed research study as well as an excellent tool for creating research posters to present at professional conferences. I am excited for students to learn this technology during their M.S.N. program so they can apply it in their own future work as advanced practice nurses."
Categories: Education, Health and Medicine