Buccino Leaders Learn from Dr. Adubato
Wednesday, May 25th, 2022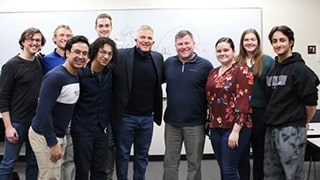 For the third year in a row, Steve Adubato, Ph.D. provided the students of the Buccino Leadership Institute with a master class on leadership and communication.
Adubato is an Emmy award-winning broadcaster, author and speaker who has been a long-time friend of the University and who currently serves as a Buccino Leadership Institute Fellow. He is the host of Lessons in Leadership which he co-hosts with Mary Gamba.
"Great leaders are great communicators, but for many students, there is not a lot of professional training offered at the collegiate level on executive presence, presentation, and communication, and skills," said Bryan C. Price, Ph.D, executive director of the Buccino Leadership Institute.
That's where Adubato comes in.
"Steve has been an ardent supporter and a close friend of the Buccino Leadership Institute since its establishment in 2018," added Price. "Year after year, he's generously gives us his time and expertise, and the students really benefit from this unique offering."
Price said that every single student who participates in this master class gets to present a short speech on whatever they are passionate about, then get real-time feedback from Adubato and other workshop participants. He said it puts students under pressure, but in a supportive environment.
Ask any Buccino student who has been in a "Dr. Adubato master class" any it's likely they will use the following words to describe the experience: engaging, interactive and intense.
"Dr. Adubato helped me to realize that you need to be passionate when speaking to an audience," said junior Jonathan Luders. "You need to put all of your energy on 'them.' You must be able to relate to your audience."
When asked to describe the master class, freshman Sophie Ulm said it was "eye-opening."
"It was fascinating to see how different speaking styles can affect the power of a speech," she continued. "This is something that I'll be able to use to improve the effectiveness of my communication."
That is music to Dr. Adubato's ears.
"It was an honor once again to teach this master class at the Buccino Leadership Institute," he said. "As always, the students were smart, engaged, and fearless in their effort to improve their public communication skills."
Price said its these types of intensive, engaging workshops from national experts like Adubato that make Seton Hall and the Buccino Leadership Institute special. "I'm blown away that our students get to experience people like Dr. Adubato and opportunities to improve their leadership and communication skills."
Categories: Arts and Culture, Business, Nation and World, Science and Technology