MPA Alumna Appointed to NJ Assembly
Wednesday, February 7th, 2018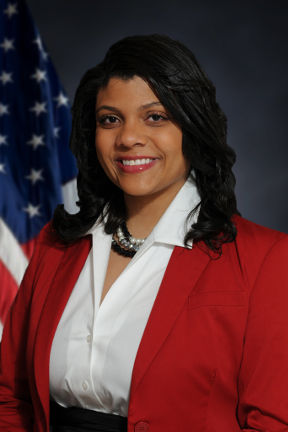 They say that whenever God closes a door He opens a window. In Britnee Timberlake's (Seton Hall B.A., '10, MPA, '12) case, it is a very big window.
Timberlake resigned from her position as a member of the Essex County Board of Chosen Freeholders on January 24th — because on January 29th, she was sworn into her new position: member of the New Jersey General Assembly representing the 34th Legislative District. Timberlake was appointed to the seat by the Essex County Democratic Party, to replace outgoing Assembly speaker and new Lieutenant Governor, Sheila Oliver. Oliver made history as New Jersey's first black female Assembly speaker, and Timberlake is also no stranger to legislative firsts. At age twenty-nine, Timberlake became the youngest Freeholder in New Jersey when she was first elected to the office in 2014. In addition, soon thereafter the Essex board selected her to serve as Freeholder president, which made her at that time the only African-American female Freeholder president in New Jersey.
In addition to her career in elected politics, Assemblywoman Timberlake founded the Essex Community Land Trust, a nonprofit committed to providing affordable housing in Essex County, and serves as its Executive Director.
Assemblywoman Timberlake received her grounding in politics and public service from Seton Hall University, where she earned her Bachelor's Degree in Political Science as well as a Master's in Public Administration.
"I am so proud of Britnee," says MPA Professor Naomi Wish. "She was a student in two of my courses. She was always interested in the nonprofit sector and added interesting insights into [class] discussion."
"We do a lot of group projects in our classes and Britnee always seemed to be the one to make those work. She just had this way of bringing people together to get stuff done. It looks like she is still doing that," says MPA Program Director Matthew Hale. "I can still remember our former department administrator Monica McKie telling me that Britnee was going to go places and do great things. Looks like Monica was right on target. We are very proud and happy that the MPA has played a small role in her success."
"We in the Department of Political Science and Public Affairs are very proud to see one of our POLS and MPA graduates appointed to such a prestigious position. Brittany Timberlake is an inspiration to current and future students," says Department Chair Robert Pallitto.
Assemblywoman Timberlake will serve on the Education Committee, as well as the Science, Innovation and Technology Committee for the 2018-2019 legislative session. She will face a special election this November to defend her Assembly seat for the final year of Oliver's term.