What Great Minds Can Do: Ben Starke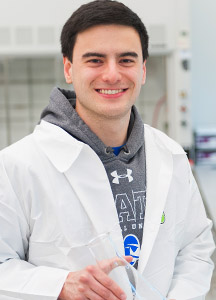 "Freshman year I conducted research with a faculty member and we used expensive, high-tech equipment that most students don't even have access to until graduate school. This and a recommendation from my professor helped me get my internship freshman year at Merck."
For Ben Starke, having access to world-class internships, state-of-the-art lab equipment, and being able to conduct research early on, were key factors in his decision to come to Seton Hall. Ben's exciting path began with a paid internship at Merck, followed by a life-changing journey to Honduras. "I was drawn by Seton Hall's great academic reputation and internships. After visiting the campus it felt like home," he said.
As a freshman, Ben had already entered the research lab and got a competitive internship with Merck. "There were so many people vying for this internship. I got a great recommendation from one of my professors and I got it. I honestly think the entire science faculty at Seton Hall is phenomenal. They all helped me."
At Seton Hall, Ben honed his job seeking skills through the University's career center. "The career center helped me really open my eyes to a lot of different things. They gave me great advice on how to talk to my interviewer." As a result, Ben got another internship with a chemical testing lab.
He also had experience shadowing a physician and volunteering in the emergency room at University Hospital. Ben also gained classroom experience normally reserved for graduate students. "As a freshman, I got to work with expensive, high-tech equipment, actually do research and not just wash glassware." He said the chance to work with his professors was a great experience. "We conducted a study on the effects of cortisol levels in college students. I got to practice my presentation skills and present my research at a University conference."
Outside of class, Ben dedicated his time as a member of the Biology Society, Global Medical Brigades, Career Center Advisory Board, Muscular Dystrophy Association, and as a volunteer at University events. Ben also found time to help others. While on a trip to Honduras, Ben, with his professor and classmates, provided medical care to remote villagers. "I am really proud of this experience. I got to help others, but it also put my daily life into perspective."
Seton Hall Career Highlights
Two internships; including: Merck and Integrated Analytical Laboratories
Volunteered at University Hospital
Shadowed a physician
Service learning trip to Honduras
Petersheim Academic Exposition presenter
Global Medical Brigades member
Alpha Epsilon Delta member
Biology Society member
Muscular Dystrophy Association camp counselor