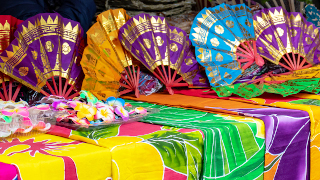 On Saturday, May 14, Thank God For Mondays host Brother Greg Cellini interviewed Dr. Monica Burnette and Dr. KC Choi on diversity, equity and inclusion, and Asian American Pacific Islander (AAPI) Heritage Month. Thank God For Monday is the weekly talk show on WSOU that airs for 30 minutes every Saturday at 8:30 a.m. (EST). Launched in 2006, Thank God For Monday is geared toward college students and adults who wish to enhance their work-life. The show also covers topics such as diversity, equity and inclusion, gender inequality, and other critical workplace issues.
Dr. Monica Burnette serves as the Vice President for Student Services. In her role, she manages the areas of Academic Success, Campus Inclusion and Community, Public Safety & Security, Student Engagement & Central Administration, and Student Wellness & Support. Dr. Burnette is the co-chair of the Diversity, Equity & Inclusion Committee, Council for Student Success, and Health Intervention Communication Team. She is also an adjunct faculty member in the College of Education and Human Services.

Dr. Ki Joo (KC) Choi is the Professor and Chair of the Department of Religion and co-director of the Medical Humanities Minor. Dr. Choi is a theological ethicist specializing in Catholic and Protestant (ecumenical) moral theology, the ethics of Jonathan Edwards, aesthetics (art theory), the political morality of race and ethnicity, and Asian American theology and ethics. He is the author of Disciplined by Race: Theological Ethics and the Problem of Asian American Identity (Cascade Books, 2019), the first major critical and constructive interpretation of Asian American experiences of race by a theologian.
AAPI Heritage Month, recognized every May, celebrates the accomplishments of Asians and Pacific Islanders in the United States. AAPI encompasses all Asian continents and the Pacific Islands of Melanesia, Micronesia, and Polynesia. Dr. Burnette explained that "AAPI heritage month is about acknowledgment, recognition, empowerment, and inspiration. It's important to acknowledge the complicated history of AAPI members has had in this country. From immigration to exclusion to activism and civic participation, it's important to recognize AAPI communities for their struggles but also their achievements and contributions."
Dr. Choi shared his thoughts on the importance of AAPI representation, "In our popular culture, there is a lot of misperceptions of who Asian Americans are… so representation is really quite important as a way of resisting and complicating the kinds of stereotypical ways that Asian Americans are typically understood or identified." He added, "the more that Asian Americans are able to make ourselves visible in the full diversity of our community is important to changing the way our popular culture sees us and understands who we are."
Dr. Burnette added that AAPI representation is essential, "first and foremost to build empathy, which provides people the opportunity to see and feel things from someone else's perspective." She noted, however, that "being AAPI, like other cultures, does not mean one thing. Representation also means showing multiple dimensions of a culture. Often when there are AAPI actors on film or TV, they are portrayed in the same way – they are perpetual foreigners (with accents), martial arts experts, or [seen as] 'model minorities.' Generalizing all AAPI members to be the same, or putting them in a box, continues to make us feel 'othered.'
Drs. Burnette and Choi also explained how community members could promote diversity, equity, and inclusion on campus and beyond. Dr. Burnette noted that the "first step is education – learning and understanding the historical roots of racism, not just against AAPI members but all groups while raising awareness is important." She shared that it is "a critical time for the AAPI community to build solidarity, encourage and create safe and brave spaces to share stories, and support all marginalized groups. We need to promote being upstanders and allies and speak up and stand up against hate, violence, and xenophobia. Take advantage of campus resources that focus on mental health, anti-racism, and bystander training. And check in on your friends [and colleagues] to make sure they are okay."
Dr. Choi noted, "The past few years have been challenging times not just because of COVID but because of the violence and racism that Asian Americans generally have been subject to…. and experiencing… it's easy to feel angry and resentful or feel [and reside in] negative emotions. The task is to figure out how to transform these negative emotions into constructive action. It requires reaching out to other AAPI members and the wider community, building bridges and standing with each other, living in solidarity, and finding ways to uplift our communities."
Dr. Burnette and Dr. Choi encouraged students, faculty, staff, and administrators to explore more about AAPI Heritage Month through the Diversity, Equity, and Inclusion website, weekly and monthly emails, and training opportunities. There are also several resources through the Seton Hall University Libraries. To learn more about AAPI Heritage Month, please email visit the website or email dei@shu.edu. 
Seton Hall is also proud to be the presenting sponsor of South Orange Maplewood's (SOMA) upcoming HAPI (Heritage of Asian American Pacific Islanders) Fest NJ on Saturday, May 21 at 10 a.m. at the Woodland in Maplewood, NJ.
Listen to the entire TGFM-AAPI Edition podcast here!
Tags: Diversity, Equity & Inclusion, Campus Life, Student Life, Student Services, AAPI Heritage Month
Categories: Education