Thursday, November 3, 2022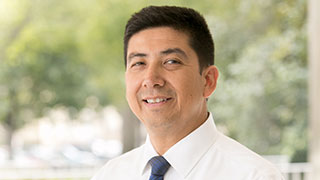 On November 1, Sergio Oliva was promoted to Associate Vice President, Director of Public Safety and Security. A Seton Hall alum with an M.A. in Police Studies, Mr. Oliva has served in the interim role since September 1, overseeing the daily operations of Public Safety & Security, Campus ID, and Parking Services. Mr. Oliva will continue to oversee these areas and supervise fire safety systems and the Office of Emergency Management, ensuring all policies and procedures are carried out in a manner consistent with the University mission. Dr. Monica Burnette, Vice President of Student Services, interviewed Mr. Oliva on his new appointment.
Congratulations on your new role. Please tell us more about yourself.
I have been working for the Department of Public Safety since 2002 and am fortunate to have worked in various capacities before my current position, including the Coordinator of Security Administrative Services, Assistant and Associate Director. These roles have allowed me to partner across campus to plan and organize safety and security for high profile events for faculty, staff, and students, while solidifying relationships with local law enforcement and fire departments. I also have experience understanding various facets of leadership from a paramilitary operational perspective. Before coming to Seton Hall, I served ten years of active duty in the N.J. Army National Guard and the Army Medical Corps. I have also worked in operations for a corporate security firm. Born in Guatemala City and raised in California, I am the proud father of three children, with two graduating from Seton Hall, and one from Rutgers University.
Our Department of Public Safety and Security manages several operations on campus. Please tell us more about the areas you supervise.
Public Safety oversees and coordinates safety and security on our campuses, fire safety systems, the Office of Emergency Management, Parking Services, and Campus I.D. Fire Safety Systems manages all fire and intrusion alarms throughout the South Orange campus. The Office of Emergency Management (OEM) updates and ensures we comply with the University's Incident Management plan. Other aspects under OEM are emergency preparedness programming such as Community Emergency Response Team (CERT) training and the oversight of the Pirate Alert System (text messaging, Alertus, Siren). Public Safety also provides safety and awareness education such as the Rape Aggression Defense (RAD) program. Parking Services oversees the issuance of parking permits and the transportation services known as SHUFly and SafeRide. Campus I.D. provides I.D.s to all three campuses (South Orange, Law School, and IHSC) and manages meal plans and access control for the South Orange campus and IHSC.
Often, community members wish to learn more about the areas of safety and security on campus. How can community members explore these critical areas?
I welcome community members to review the information linked on our Department of Public Safety website. Subject matter varies from the Campus Security and Safety Report, personal safety to emergency preparedness. In addition, there are Public Safety resources such as links to transportation, Lost and Found, and other services we provide. The Public Safety phone number is 973-761-9300.
 What are some upcoming initiatives we can look forward to from the areas of safety & security?
Public Safety is excited to announce that it will soon be instituting a License Plate Recognition (LPR) entrance system. This initiative will provide a convenient entrance to the University for Seton Hall vehicle permit holders while enhancing security for the South Orange campus. Our department is planning to expand our surveillance system to the surface lots and the Parking Deck. Public Safety will be launching a Public Safety Advisory Committee comprised of key representatives from the Student Government Association (SGA), faculty, and staff. The purpose of this committee is to share information and enhance the relationship between the Seton Hall community and Public Safety.  
 How can community members share feedback for the areas of safety & security?
Over the years, I've learned that complacency stalls proactivity and results in reactivity. Change is inevitable and adapting to change is imperative. Therefore, feedback from our community members is always welcomed. I would advise members of our community to email security.request@shu.edu or contact me or any of our senior administrators. We also have an anonymous reporting link for reporting information regarding any incidents that have occurred on or off campus. I would encourage all to take the time to get to know our Public Safety Officers by stopping by and conversing with them. I can tell you firsthand they would appreciate it! I take great pride in serving the Seton Hall community for more than twenty years and working alongside the members of the Department of Public Safety. I have gained great respect for their dedication and commitment they give to our community and University.
For more information, please email studentservices@shu.edu. Sergio Oliva can be reached at Sergio.oliva@shu.edu
Categories: Campus Life