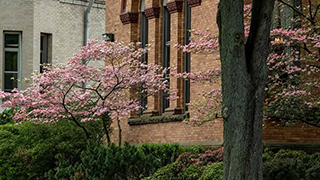 Last year Seton Hall University was granted $250,000 by the State of New Jersey to fund its Great Minds Dare to Care campaign, which aims to change attitudes about mental health and mental illness, eliminate barriers to accessing mental health care and to foster a sense of community and caring that improves the lives of all students – and ultimately prevents the feelings of isolation and disconnectedness that can sometimes lead to suicidal behavior.
One of the key tools the University has developed to address these issues is a new website for students, families and faculty. The site, www.shu.edu/hope, is a comprehensive resource that offers a variety of information related to suicide prevention and general mental health and wellness. Some of the topics covered include:
Helping a friend, a student or yourself
Information for parents who are concerned about their child
How to talk about mental health and suicide
Warning signs of a mental health crisis
Common myths about suicide
Resources for coping with a suicide loss
Prevention and support resources
A 2022 study analyzed eight years of data collected from the annual Healthy Minds Study and found there was a 135 percent increase in depression and a 110 percent increase in anxiety among college students between 2013 and 2021. It also showed more than 60 percent of college students met the criteria for at least one mental health condition during the 2020 - 2021 school year.
"This resource is more important than ever because we know students across the nation are struggling," said Karen Van Norman, Associate Vice President of Student Services and Dean of Students. "Our hope is this new website will give students and faculty the tools they need to talk openly about mental health and suicide and know how to respond to a crisis so nobody feels alone."
According to Active Minds, 67 percent of young adults tell a friend they are considering suicide before telling anyone else. The University encourages students to spend time on the website so they can learn how to have these important conversations with their friends if they are worried about them. With the proper tools, we can all learn how to save a life.
Visit www.shu.edu/hope to learn more.
Categories: Campus Life , Health and Medicine