About The Gala
The Joseph A. Unanue Latino Institute's gala is an extraordinary yearly celebration honoring exceptional individuals and institutions that inspire and uplift Latino communities. Like many organizations, the Institute was unable to host its annual programming during the COVID-19 pandemic, and after a difficult time, our students and team look forward to celebrating this fall. 
This year's event brings together national and New York leaders in healthcare, media, philanthropy, and influencers who support our treasured Institute.
2022 Honorees
Esperanza Award
His Eminence, Joseph Cardinal Tobin
Archbishop of Newark
In the five years His Eminence has served the Archdiocese of Newark, Cardinal Tobin has led our Catholic community in worship through action.
Read more »

The son of the late Joseph W. Tobin and late Marie Terese Kerwin, His Eminence, Joseph William Cardinal Tobin was born on May 3, 1952 in Detroit, MI. He is the oldest of 13 children.

Joseph Tobin attended Holy Redeemer Elementary School in Detroit, and then graduated from St. Joseph's Prep College, Edgerton, WI in 1970. He continued his education at Holy Redeemer College, Waterford, WI, receiving a Bachelor of Arts degree in Philosophy in 1975. From 1977 until 1979, he attended Mount Saint Alphonsus Seminary in Esopus, NY, earning Masters Degrees in Religious Education in 1977 and Divinity in 1979.

In 1973, Joseph Tobin professed vows as a member of the Congregation of the Most Holy Redeemer, the Redemptorists. In 1976, he professed perpetual vows with the Community. On June 1, 1978, he was ordained to both the diaconate and the priesthood. Between 1979 and 1984, Father Tobin served as associate pastor of Holy Redeemer Parish, Detroit, where he engaged in both pastoral ministry to the Hispanic community and youth ministry. In 1984, he was named pastor of Holy Redeemer Parish. He also served in a number of diocesan assignments within the Archdiocese of Detroit, including: Episcopal Vicar; member of the Presbyteral Council, and; official in the Metropolitan Tribunal.

From 1990 until 1991, he served as pastor of St. Alphonsus Parish in Chicago, a parish staffed in that Archdiocese by the Redemptorists.

Within the Redemptorist Community, Father Tobin served as a Provincial Consultor from 1984 until 1990, as General Consultor of the Community in Rome from 1991 until 1997, and as Superior General of the Redemptorists in Rome from 1997 until 2009.
Viva Award
Mariano Rivera
Former New York Yankee Relief Pitcher, Thirteen-time All-Star and Five-time World Series Champion
As the Founder and President of the Mariano Rivera Foundation, an organization established in 1998, Mr. Rivera is dedicated to creating opportunities for the most vulnerable populations.
Read more »

Mariano Rivera's baseball journey began in the fishing village of Puerto Caimito in the Republic of Panama. In 1995, made his Major League Baseball debut with the New York Yankees as a starter and was swiftly promoted to reliever. He retired after 19 seasons with the Yankees and was inducted unanimously into the Hall of Fame in 2019.

As the Founder and President of the Mariano Rivera Foundation, an organization established in 1998, Mr. Rivera is dedicated to creating opportunities for the most vulnerable populations. The Mariano Rivera Foundation is especially dedicated to reaching children in the US as well as Central America and Panama through digital inclusion and mentoring programs. After achieving a record 652 saves, Mariano has dedicated himself to his most important save, #653- the countless young lives that will be impacted by the Mariano Rivera learning center in New Rochelle, NY.

Mr. Rivera actively supports communities to reduce its carbon footprint, improve livelihood and raise income by increasing their access to clean and renewable energy.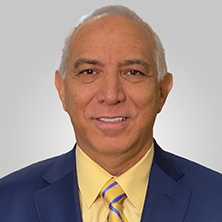 Magno Award
Dr. Ramon Tallaj
Founder and Chairman of SOMOS COMMUNITY CARE
Founded by Chairman, Dr. Ramon Tallaj in 2015, SOMOS was created to change healthcare in America by focusing on equity, affordability, and the right to quality, preventative healthcare.
Read more »

SOMOS Community Care is a non-profit, diverse physician-led network of 2,500 health care providers serving 1 million Medicaid and Medicare beneficiaries throughout New York City. Founded by Chairman, Dr. Ramon Tallaj in 2015, SOMOS was created to change healthcare in America by focusing on equity, affordability, and the right to quality, preventative healthcare. SOMOS aims to transform the communities it serves particularly in low-income immigrant communities throughout the Bronx, Brooklyn, Manhattan, and Queens.

Dr. Tallaj has championed the pay-for-performance model in New York State to improve health outcomes by enhancing preventive and chronic care management. Under his leadership, SOMOS saved New York State $336M through the NYS Medicaid program. Throughout his career, Dr. Tallaj has led numerous health care initiatives that focuses on reducing health disparities in primarily low-income, minority, and immigrant communities in New York and in the Caribbean.

At the start of the first wave, SOMOS network providers have been at the front and center of the COVID-19 health crisis for communities that are too often forgotten. Collaborations with the city and state officials and NY Archdiocese has enabled SOMOS Community Care to establish 125 trilingual testing sites in hardest-hit communities and create national models with culturally competent care and walking testing centers around the country. Dr Tallaj was the first to launch the nation's first pentalingual hotline with services in English, Spanish, Chinese, Cantonese, and Mandarin via 1-833-SOMOS-NY as well as commission the first nationwide poll with Latino Decisions to understand the economic impact of COVID-19 on the Latino population.

Testing over 1 million people nationally, SOMOS Community Care continues to work in close collaboration with both city and state officials by testing in over 400 schools as a way to keep the most vulnerable families, students, and teachers safe and in class. To date, SOMOS Community Care has operated 15 food distribution sites in partnership with World Central Kitchen, by providing a total of over 15,000 meals per day to meet the growing needs of New Yorkers and feeding more than 2 million people since Good Friday. Dr. Tallaj pledged monetary support to the Mayor's Emergency Relief Fund for small businesses damaged by looting, and for families of immigrant New Yorkers who died during the COVID-19 pandemic by helping them cover burial costs.

At the request of the former New York State Governor Andrew Cuomo and local mayors, in Florida, Texas, and Georgia SOMOS's network of diverse doctors were deployed to sunbelt states to help increase access to testing, training and. provide vital information for the most underserved immigrant communities. As a leading member of The New York State COVID-19 Vaccine Task Force, Dr. Tallaj has been instrumental in procuring the vaccines for essential healthcare workers, seniors, and patients with secondary issues. Tallaj has appeared in numerous PSA awareness campaigns regarding the safety and effectiveness of the COVID- 19 vaccine. Through numerous equity programs, SOMOS has administered over 1.5 million vaccines in NYCHA Housing Projects, MTA Subways, Yankee Stadium, and other pop-up sites throughout the city.

Recently SOMOS Community Care became the first primary care network to receive direct doses of the vaccine delivered to their medical offices, as a solution to help racial disparity and vaccine hesitancy. SOMOS, under the leadership of Dr. Tallaj, has been instrumental in reducing the number of coronavirus cases in NYC while holistically treating Dominicans, in immigrant communities. Dr. Tallaj remains an exemplary leader during this time of crisis and continues to ensure New York City's most vulnerable are not alone.

Tallaj has led numerous humanitarian missions in the Dominican Republic as well as Puerto Rico and Haiti in the immediate aftermath of Hurricane Maria and Hurricane Matthew.

A former health official, Dr. Ramon Tallaj hails from the Dominican Republic.