Move-In Day 2022: Welcome to Your Home at the Hall!
Wednesday, July 27th, 2022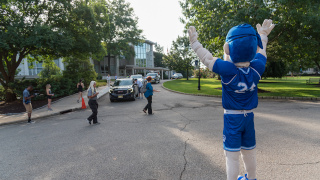 The Department of Housing & Residence Life is ready to soon welcome you to Your Home at the Hall! The latest information regarding the move-in day experience for both new and returning students is below.
As a reminder, First-Year and Transfer Student Move-In Day is Tuesday, August 23/Wednesday, August 24 and Returning Student Move-In Day is Friday, August 26. Classes begin for all students on Monday, August 29 (reminder that New Student Welcome Weekend is scheduled for first-year and transfer students beginning on Thursday, August 25).
First-year and transfer students with a housing assignment received a personalized link sent to their SHU email accounts to select a move-in timeslot. If you have not received that email, please contact shuhousing@shu.edu.
Returning students may move into their rooms on Friday, August 26 between 9:00am and 4:00pm. You are also welcomed to move into your space either day that following weekend – Saturday, August 27 or Sunday, August 28 – between 9:00am and 8:00pm. Note that "returning students" includes students returning to SHU who have not lived in University housing in the past.
All Residential Students:
Arrive at your assigned residence hall to meet Housing & Residence Life (HRL) staff and receive your room key.
A limited supply of blue bins, hand trucks, dollies, and carts will be available to assist with moving items. We encourage you to bring your own hand trucks or dollies, if you have them, to help ease your move-in process.
While halls are not available for tours during the summer due to construction and cleaning activity, you may view your room via our Residence Hall Virtual Room Tours (which includes furniture dimensions!).
View our recommendations of Area Hotels, if necessary, for your families/friends.
Reference the What to Pack for Seton Hall Residence Halls website for information about what is permitted in the halls.
More details will follow, but we require that you review your Room Condition Report (RCR) during your Move-In Day and report any updates to the room condition to HRL staff.
All packages are delivered to the University Mailroom, located in Mooney Hall B-13. Once you arrive to campus, you may receive a mailbox key by visiting Mooney Hall B-8. During the summer, send items to your campus mailing address using the following address:

Your Name
Student
Seton Hall University
400 South Orange Ave
South Orange, NJ 07079
First Year Transfer Students:
Due to ongoing campus improvements and construction, it is essential that you arrive during the times you are scheduled – NOT before it. We are limited in the number of cars and individuals that can be accommodated during each timeslot.
Label your items with your name, hall, and room number prior to arriving to campus.
Bring your printed Dashboard Parking Tag and place it on your car dashboard when arriving to campus.
Only one vehicle will be permitted to arrive with you at your residence hall (extra vehicles will be directed immediately to the campus parking deck and items will need to be unloaded from there).
Public Safety officers will be stationed around campus to guide you to the front of your residence hall.
Once you arrive to the unloading zone outside your hall, then you will unload all your items and immediately be asked to move your car to the parking deck. No car can remain in the unloading zone for more than 15 minutes, and a licensed driver must always remain with your vehicle while in the unloading zone.
Any student traveling alone will be assisted.
To ensure a streamlined move-in day experience for all students, please follow the guidance of officers and HRL staff.
The Seton Hall Welcome Crew (a team of very excited volunteers including student leaders, your professors, and other members of the SHU community!) will be available to assist with moving students' items. However, please pack your items as if you are planning to carry them to your room yourself.
Upload your campus ID card information prior to arriving to campus. From the Campus ID Office: Please check your email from "SHU Campus ID Office (MyPhoto@shu.edu)" inviting you to submit your photo for your ID card. We encourage all students to complete this as soon as possible. This email has instructions on how to upload both your photo and a photo of your supporting documents through a personalized link. If you have any questions, please email campusid@shu.edu.
Returning Students:
Arrive directly to your residence hall to unload items.Limit your time parked in front of the hall, to ensure a streamlined move-in process for other students – but take the time that you need to move items into your room.
While not as critical as during First-Year and Transfer Student Move-In day, as volunteers will not be handling your items, we still recommend labeling your items before arriving to campus.
HRL staff members and Public Safety officers will be available for any of your needs.
Tips for New Residential Students from HRL Staff:
Talk to your roommate, early and often.
Check your SHU email account regularly. HRL and other departments will continue to send regular emails.
If possible, pack just what you need for the first few months. Think of the space of the room.
Remember that the SHUFly takes weekly trips to Target and a local mall!
If you are not from the NJ area, be sure to check local weather trends.
Be open to new experiences and new people.
Let your parents make your bed and hang out for while on Move-In Day. Move-In Day is just as important to them as it is to you!
Talk with your roommate/suitemates to coordinate bringing certain items.
Bring nice clothes in case you have a presentation for a class or a Career Center event.
Check out upcoming events to get involved on campus from day one!
Save the number for Public Safety: (973) 761-9300.
Do your laundry in the morning and during the week. Weekends tend to be busier.
Everyone is a potential friend so just say "hi."
Don't be afraid to ask questions. Use your resources.
Be honest with your roommate about expectations/boundaries.
Take pictures on Move-In Day with family and friends (you will enjoy looking back on them in the future)!
As we enthusiastically continue to prepare for your arrival in August, please expect additional emails throughout the summer with more information about break housing periods and the residential experience. Information will be sent by HRL staff, including your in-hall staff and Resident Assistants (who are very excited to meet you soon!).
Please contact us at shuhousing@shu.edu with any questions.
Thank You,
Housing & Residence Life
Your Home at the Hall
Categories: Campus Life