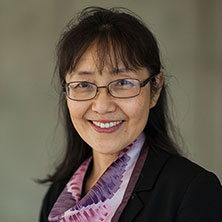 Professor Dongdong Chen, Ph.D., associate professor of Asian Studies and director of the Chinese Program at Seton Hall recently finished two long-term digital humanities (DH) projects. The first project resulted in her paper "Podcasts in a Chinese Classroom: A Digital Humanities Project" being published in Chinese Language Teaching Methodology and Technology last July. Additionally, she finished upgrades on a web-based Chinese-learning program for Seton Hall this past summer.
Chen first started the web-based Chinese-learning program back in 2003, but as the Java language evolved over the years, the new features of the programming language impacted the functionality. After discussions with Thomas McGee, Senior Digital Media Specialist in the Teaching, Learning, and Technology Center (TLTC), Chen decided to collaborate with the TLTC to rewrite the material in PHP, a different programming language. Considering the complex nature of the Chinese language, the revisions took longer to apply.
"The English letter 'A' is just one byte, but there are two bytes for a Chinese character," said Chen, "so it takes time for Tom to learn all these complexities and details in addition to the reverse engineering."
During the revision process, Chen had to upgrade the vocabulary from the second edition to the third edition of Integrated Chinese. The commonly-used Chinese language textbook provided material for the web-based instruction units. Chen also challenged her students to contribute some of the content, which later became a focal point for the paper she published in Chinese Language Teaching Methodology and Technology. Students were asked to create podcasts in the form of an interview on self-selected topics and then upload them to the program.
"They are doing something which is more challenging because it's eventually in the public domain. They create authentic products. It's not just a very easy task that you start today, and you're done this evening. You have to put in effort, time, energy, a lot of syncing analysis," Chen explained.
When Chen first started working on the project in 2003, it was more of what is known as a computer-assisted language learning program. As she accumulated a greater understanding of digital humanities, the format changed more in recent years.
"You engage students to create or build things collaboratively while they are learning the language, whereas if you're using computer-assisted language learning, you're using that to enhance your teaching or enhance student learning," she stated.
All this recent work is part of a book proposal she submitted this past summer that is currently under review with a publisher.
Chen could not have completed these projects without the constant support of Mary Balkun and Marta Deyrup, co-chairs of the Digital Humanities Committee. "When you're doing DH projects, there are a lot of challenges. You need some encouragement and guidance, and they give you whatever support you need. So, I feel that's very important," said Chen. "I wanted to highlight that Seton Hall DH projects have been going very well under their leadership, and they have been persistently inspiring us, leading us, and supporting us."
Chen was awarded a DH Fellowship in 2017-18. She also participated in a grant that Balkun and Deyrup received with Ramapo College in 2018-19. This year, she is part of the Digital Humanities Faculty Learning Community.
To view other digital humanities works by Professor Chen, please click here.
Categories: Arts and Culture