Monday, September 19, 2022
On Thursday, November 3 from 6:30–8:30 p.m. the Russian and East European Program and the Slavic Club will be hosting "From Eastern Europe to the Northeast," an evening of poetry with poets Claudia Serea and Marek Kuli in Fahy Hall Room 236.
This event will be conducted in-person, but there is an option to attend virtually via Microsoft Teams.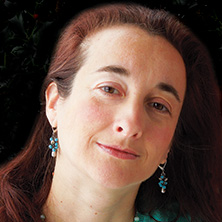 Claudia Serea is a Romanian-born poet with poems and translations published in Field, New Letters, Prairie Schooner, The Puritan, Oxford Poetry, and elsewhere. She is the author of six poetry collections, most recently "Writing on the Walls at Night" (Unsolicited Press, 2022). Serea won the Joanne Scott Kennedy Memorial Prize from the Poetry Society of Virginia, the New Letters Readers Award, and the Franklin-Christoph Merit Award. Her poems have been translated in French, Italian, Russian, Arabic, and Farsi, and featured on The Writer's Almanac. Her collection of selected poems translated into Arabic, "Tonight I'll Become a Lake into which You'll Sink," was published in 2021. She is a founding editor of National Translation Month, serves on the board of The Red Wheelbarrow Poets, and co-hosts their monthly readings.
Marek Kulig immigrated to the USA from Poland in 1992. A former high school English teacher, he currently works for a molecular diagnostics laboratory. His poems were published or are about to be published in Plants and Poetry, Rat's Ass Review, Nifty Lit, Snakeskin, Orchards Poetry Journal, Change Seven, Journal of NJ Poets, Shot Glass Journal, Fish Publishing, etc.
This reading is co-sponsored by the Russian and East European Studies Program and the Slavic Club. Partial funding for the event has been provided by the College of Arts and Sciences thanks to the generous support of the President's Advisory Council members.
The event is free and open to the public. Slavic refreshments will be served.
Categories: Arts and Culture , Nation and World